FAQ
1. How do I get started running a Retro?
Getting started with running a Retro is pretty simple. You'll just need to make sure you do two things first:
Create an account -- this will allow you to use all your features.
Create a Project -- this is where you will organize all your Retros.
Once the Retro is kicked off, users can share their thoughts about what went well, what didn't go well, what can be improved, and what still puzzles us -- the standard Retrospective layout.
But what makes this different from your typical Kanban board is the built-in workflow. You'll seamlessly transition from sharing thoughts, to discussing thoughts, to voting on thoughts, to discussing votes.
All of this is framed by a timer that keeps your Retrospectives short and on task.
2. How do I invite people to a Retro?
When you go to set up your Retro, you'll notice there are three ways you can invite others -- give participants your unique Room Code, share your unique Retro link, or send a personalized invitation via email.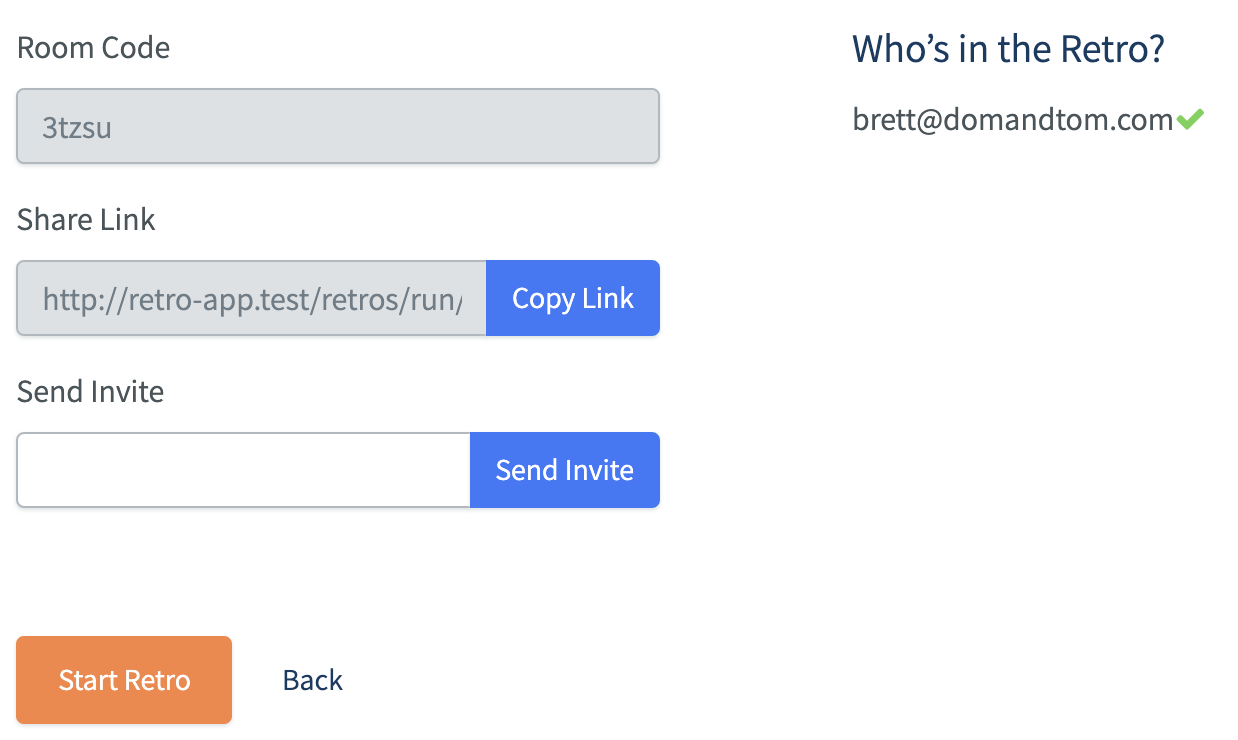 If your invitees are new to Retro App or outside of your immediate organization, it might be best to send them an Invite so they have instructions. They won't need to make an account to join your Retro if they don't want to, they can join as a gust. For regular users, the Room Code or Share Link are quick and efficient.
3. Can I invite guests or do they need accounts?
While we recommend regular users make an account so they can be on Teams and track their activity, accounts are not necessary for joining a Retro. If you'd like to invite a guest to your Retro, use the Send Invitation feature to send them instructions via email. If they'd like to create a Project or Retro of their own, however, they'll need to create an account (psst -- it comes with a free trial and only takes about a minute).
4. Do guests need to have an account?
Guests can participate in Retros without an account. Retro Admins will require an account to create a Project and kick off their own Retro -- but both can be done with at the Freelancer level.
A premium account will be really helpful for someone looking to set up multiple Teams and Projects, but isn't necessary for a guest joining for a Retro or Project.
5. What's up with Projects and Retros?
New to the Agile framework? Here's a little terminology crash course. Projects are your overall activity. Developing a new app? Overhauling your website? Those are projects. Typically, they'll have start and end dates, involve multiple team members, and require a lot of different moving parts.5.>
Retros are short-hand for Retrospectives, which are an important part of working in an Agile environment. During the Retro, you and your team will reflect on what happened during the segment of the Project by sharing thoughts on the following: What went well? What didn't go well? What can we improve? What still puzzles us? (Note: this is the default template).
After everyone gives their thoughts, participants will vote on which thoughts they agree on. Votes are tallied (our software will crunch the numbers for you) so your team can review the top takeaways.
Oh, and all of this happens in three minutes. Short, sweet, and to the point so your team can spend more time working.
6. Is it worth upgrading to the Startup or Pro account?
Short answer: it depends.
There are two main factors that define which plan will be right for you: the number of Retro Admins and the number of Projects you need.
At the Freelancer level, you can have a single Retro Admin and work on one project at a time. You also can only hold a Retro within the default template format.
If you need multiple Admins, multiple projects, or the ability to edit your Retro template, you'll want to explore our other paid plan options: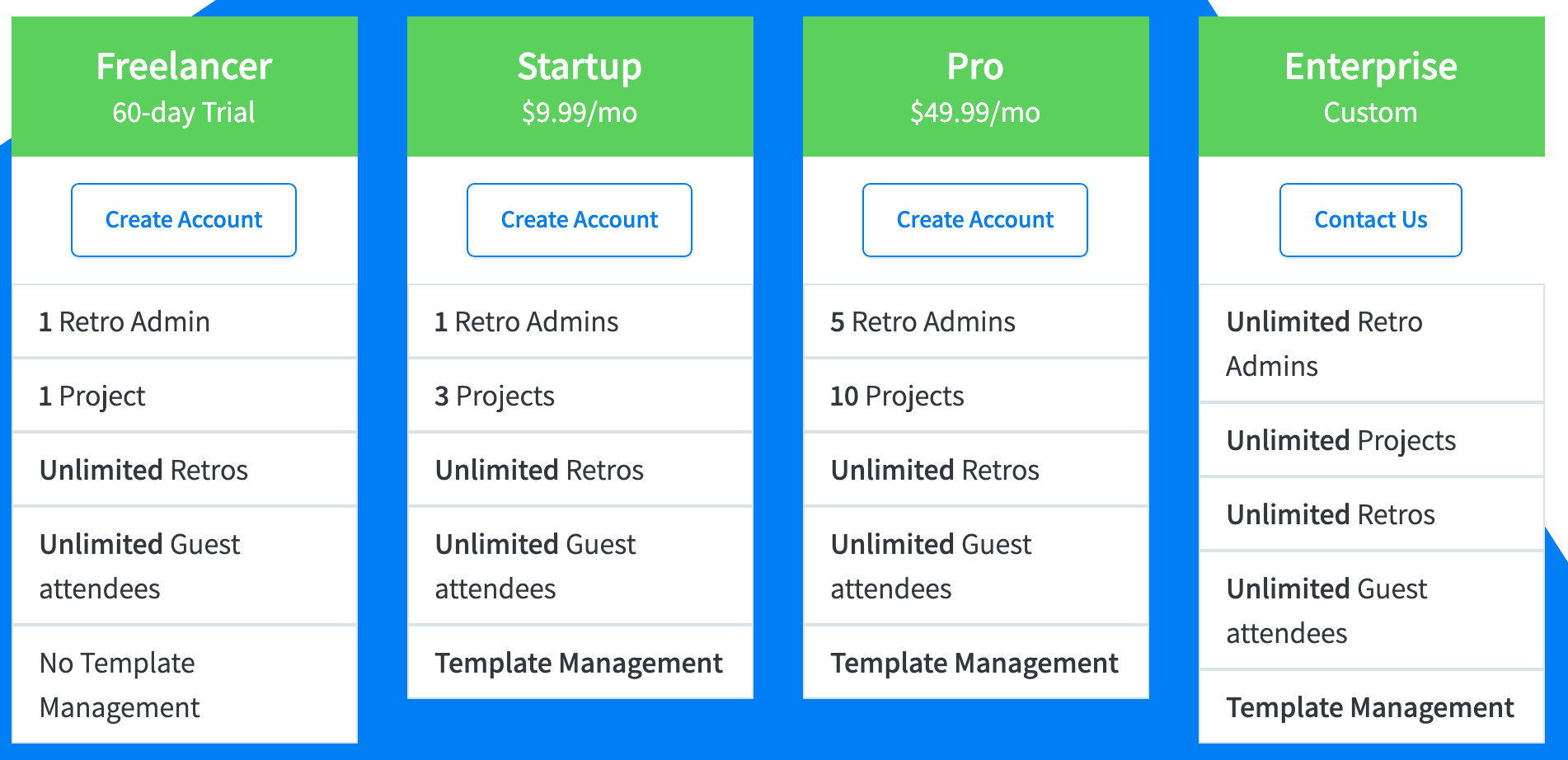 If you require more than 5 Retro Admins or 10 Projects, we can create a custom plan that gives you exactly what you need. Contact Us to build a custom plan.
7. How do I add Team Members?
Admins can create and manage teams to organize workflow and keep communications relevant. You can add members to your team within your Team Settings. Click the gear icon next to the Team you'd like to add to and select Team Members from the left-hand menu.
Invitations are sent via email.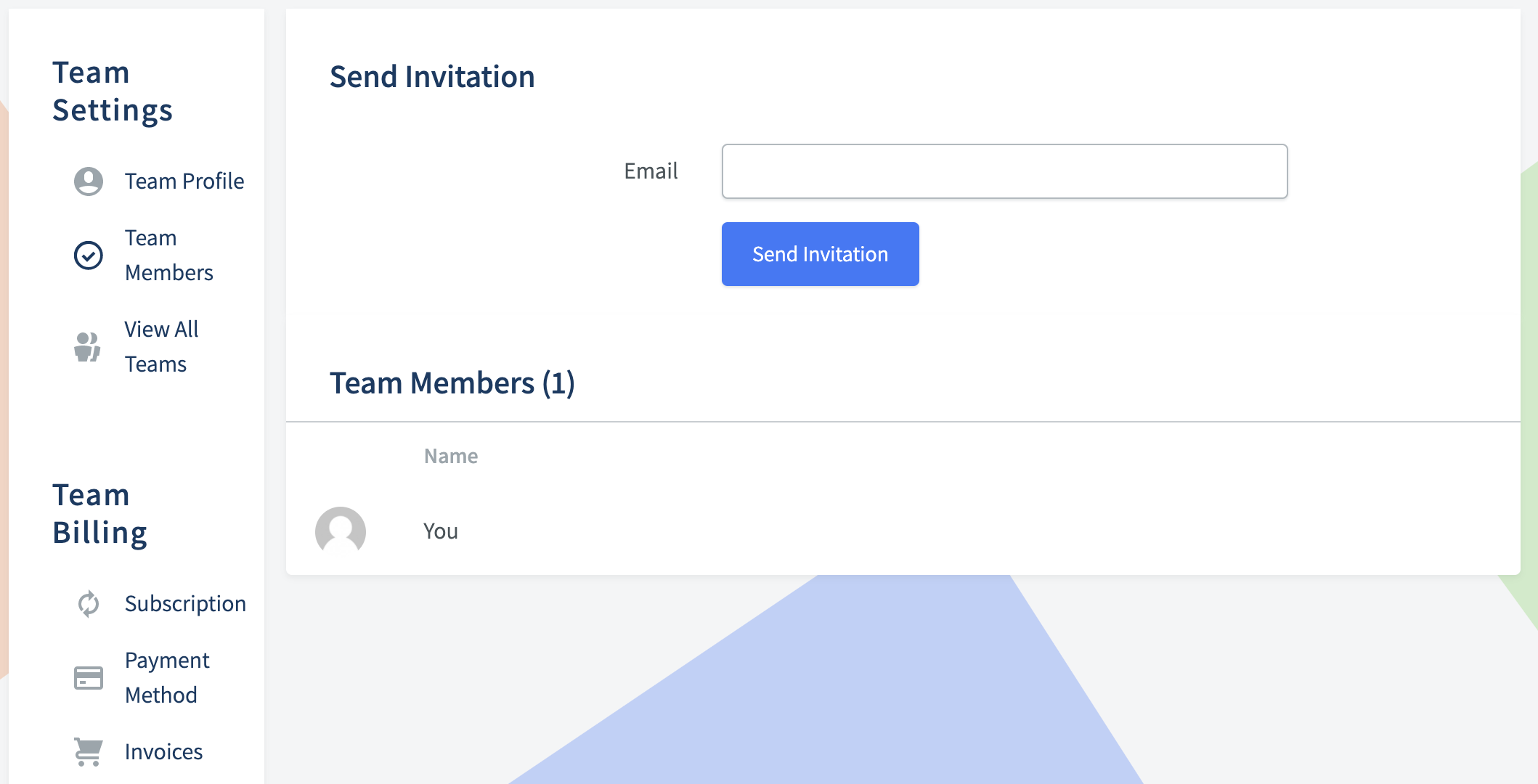 While you're in your Team Settings, go ahead and give your Team its unique personality. You can change the Team name and upload a Team Photo to make it really feel like an extension of the people you're working with.
8. Can I cancel or change my account at any time?
As your organization changes, so will your project management needs. That's why you can cancel or change your Retro account plan at any time. Plans are billed monthly -- simply switch your plan before the billing cycle refreshes.
9. Is the stuff we say anonymous?
Retro is designed to be a place where your Team speaks freely and honestly about your Projects. Thoughts and Votes are anonymous to avoid awkward moments within your Retros and promote effective reviews.
10. Is the stuff we say safely secured?
Security is a top priority for you, and it is for us too. You can work with sensitive company data, personal information, and honest thoughts with peace of mind.
Our hosting is handled by Dom & Tom DevOps Hosting, so we can ensure that everything you do on our site is secure, and won't be shared with any party for analytics. Retro provides full data encryption via an SSL (you can view our SSL Report from SSL Labs here).
Data is encrypted in motion and at rest, and backed up monthly, leaving very little opportunity for breach. Our data is hosted on Amazon Web Services (AWS) which is trusted by some of the largest organizations in the world.
Your payment info is in good hands. Our payments are handled by Stripe, which is also trusted by many household names.
If you notice that something doesn't seem secure, reach out to us. If it leads to a security improvement on our end, we'll make it worth your time.
We're also happy to provide SAML SSO to Enterprises that are interested.
11. Who gets a Retro report?
Retro reports are a great way to reference past Retros, measure progress, and save an at-a-glance view of what was discussed. At the conclusion of every Retro, the Retro Admin will be taken to the report screen and emailed a copy to view later.
You can also download your Retro reports as a PDF at any time by clicking the "Report" option to the right of the Retro name.
12. How do I create my own Templates?
Users on the Startup plan or higher can customize Retro questions and save them as Templates.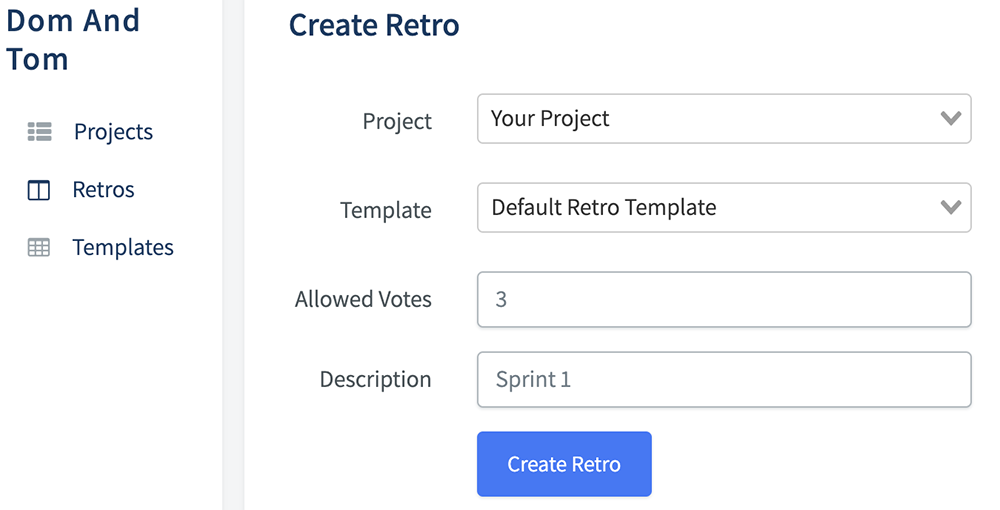 When creating a Retro, select Templates on the left-hand menu to create a new template. You'll be able to assign new questions and topics to the four steps of your Retro if the default doesn't quite match your needs
Here's the default template:

And here's a template built around "The 4 Ls," another commonly used Agile Retrospective format: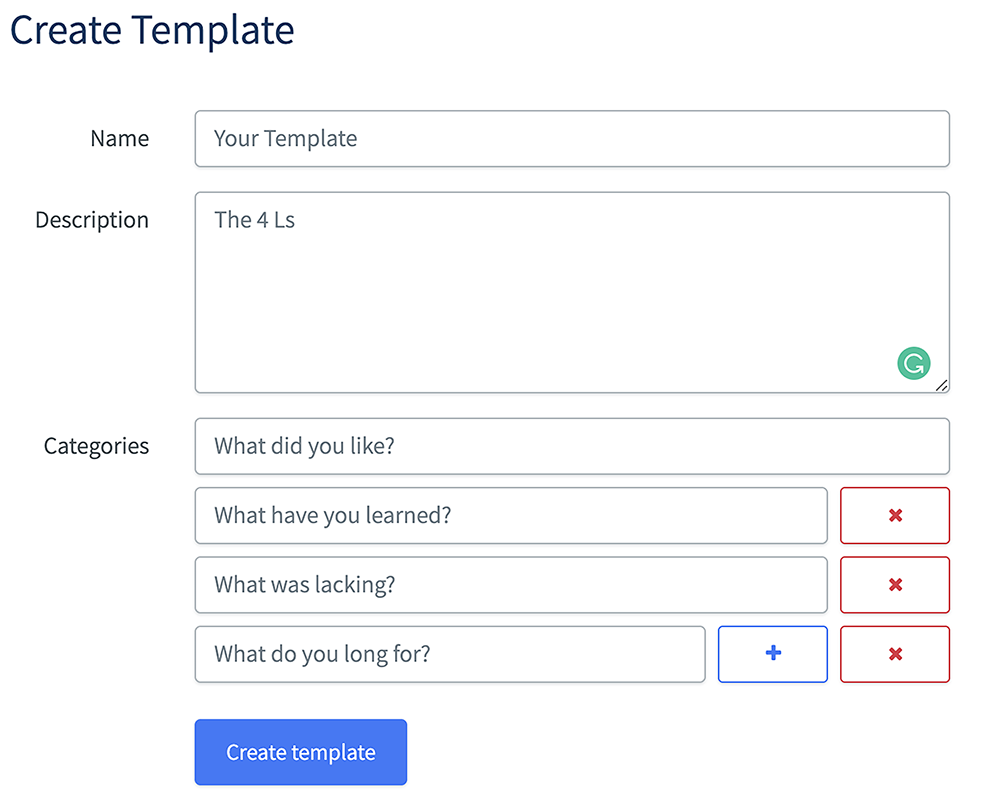 Remember, this feature is only available at the Startup plan level and higher.
13. If I have a feature request, or issue, how do I tell someone?
We love feedback. If you have a question, issue, or idea, we welcome you to reach out. In the drop-down menu under your user name (in the top right corner), you'll see a section for Support. Click the paper airplane (Email Us) option to launch a message feature.
Give us the rundown of your situation -- pressing "Send" pings one of our experts who are here to assist you with anything you may need.